A little more about me...
I'm a creative thinker, an entrepreneur with a passion for learning and creative arts.
Self-employed since 2001, through collaborations, exhibitions and various artistic endeavours, I'm inspired by Irish mythology in both my visual arts and writing.
Formal Education
2013-2015 University Limerick
Masters Degree in Tech. Management
2011-2012 NUI Galway
Post Grad. Dip. in Tech. Commercialization
1991 Stonehill College (MA. USA)
BA in Liberal Arts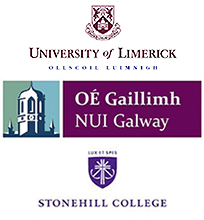 Masters research "Innovation for Micro-Enterprises: Applying Prevalent Technology"
involved working closely with diverse small businesses and developing a Four Steps program,
to leverage prevalent technology and create a sustainable innovation cycle;
This involved: web presence, exploring cohesive branding and creating tailored marketing strategies.
For detail please refer to Tech Comm. (Diploma) and  Tech. Management MSc. syllabus

Art & Graphic Design
I've an interest in many artistic arenas; including graphic design, fine art and illustration.
Since 2010 I've displayed work in various local galleries/ exhibitions in Sligo, leitrim and Donegal
My artwork is housed in private collections both nationally and internationally,
including the prestigious Irish National Teachers Organization Collection in Parnell Square.
I've featured in various publications with my artwork and pen and ink illustrations; from fine-line detailed archeological studies to more recent endeavours and creating for animations.
Solo Shows / Large Exhibitions
The Dame Street Gallery - July '09
Athnuachan/ Tides of Change 3rd Solo Show (23 Oils)
RDS, Main Hall, D4 - Nov. '08
Lionn Dubh/ Dark Moods, 2nd Solo Show (28 Oils)
The Dame Street Gallery - Jan- Feb '06
Co-hosted exhibition (20 Oils)
Cultivate Gallery, Temple Bar - Dec. '06
Fís agus Seanchas/ Memories of Stone, Debut Solo Show (39 Oils)
The Demifay
I've written (and co-produced) these animated/ interactive children books. "The Sunbeam Path" along with the Gaeilge equivalent: "Slí Draíochta an Gha Ghréine", are available through The Demifay Website. This is the first Irish animated & interactive ibook available on the apple platform.
This type of technology is exceedingly engaging for young children and so appropriate for anywhere from 3-10 year-olds.
Both books are also available on Kindle for 6-8 year-old readers. We've  adapted "The Sunbeam Path" as an App for Windows and Android with print versions available through Amazon and in select local (Donegal/ Leitrim) Bookstores.
The sequel and second in The Demifay series  "The Dolmen Arch" is already at an advanced stage of development with concept artwork already in hand.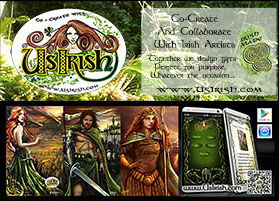 UsIrish
Involved in a start-up venture, networking with local artists to sell online called UsIrish. This bespoke ecommerce channel creates personal gifts tailored for the ones you love.
While art is often just treated as a commodity, this is an attempt to create a community of artists that prefer to create meaningful pieces inspired by sentiment for your specific purposes.
I designed and released a cultural UsIrish App with content based on Irish mythology. It features digital artwork and stories on several heroic characters and an Ogham translator, with detailed tree lore, (available on both iStore and android platforms).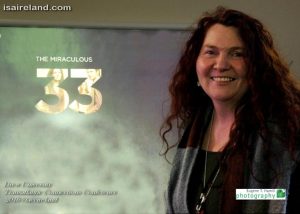 I regularly lecture on Celtic Art and Mythology with the Institute of Study Aborad Ireland and have presented at each of the Transatlantic Academic Conferences- run in conjunction with Drew University  Presenting on Women in Business (2017), Irish folklore and mythology on the History Panels (2014 & 2016), and on Interactive Media for the Digital Media Panel (2015). Invited also to present  in Nov 2017 for the conference of Folklore and Ethnology (UCD).
Lead consultant with the Horison2020 propsal representing Digital Media Choices, in collaboration with several EU multinational partners & higher-learning institutions (on gamification of medical, educational & societal issues).
Personal Thanks
I was honoured to be selected to present alongside Eoin Colfer, Laureate na nÓg in the Once Upon A Place Tour, touring west Donegal and the islands. Launching Wainfest and touring with nationally-renowned authors was an amazing experience, especially on my debut as a Children's Author. I am deeply indebted to Children's Books Ireland for that opportunity.